The Grimsrose Path
is the second book in the Trickster series by
Rob Thurman
. It takes place in the same universe as the Cal Leandros series.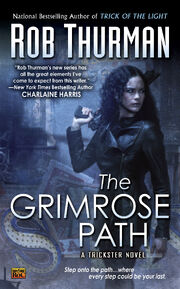 Bar owner Triva Iktomi knows that inhuman creatures of light and darkness roam Las Vegas-especially since she's a bit more than human herself. She's just been approached with an unusual proposition. Something has slaughtered almost one thousand demons in six months. And the killing isn't going to stop unless Trixa and her friends step into the fight...
Characters
Edit
Plot Points
Edit
Cover art by Chris McGrath
External Links
Edit
Ad blocker interference detected!
Wikia is a free-to-use site that makes money from advertising. We have a modified experience for viewers using ad blockers

Wikia is not accessible if you've made further modifications. Remove the custom ad blocker rule(s) and the page will load as expected.