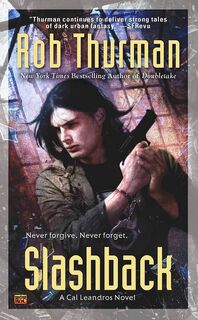 Slashback is the eighth book in the Cal Leandros series. It takes place after the events of Doubletake.
Taking on bloodthirsty supernatural monsters is how Caliban and Niko Leandros make a living. But years ago--before they became a force to be reckoned with -- the brothers were almost victims of a very human serial killer.
Almost.
Unfortunately for them, that particular depraved killer was working as apprentice to a creature far more malevolent -- the legendary Spring-heeled Jack.  He's just hit town.  He hasn't forgotten what the Leandros brothers did to his murderous protege.  He hasn't forgotten what they owe him.
And now they are going to pay ... and pay... and pay...
Characters
Edit
Plot Points
Edit
Alternate Covers
External Links
Edit
Ad blocker interference detected!
Wikia is a free-to-use site that makes money from advertising. We have a modified experience for viewers using ad blockers

Wikia is not accessible if you've made further modifications. Remove the custom ad blocker rule(s) and the page will load as expected.