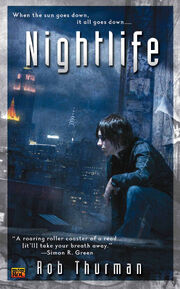 Nightlife is the first book of the Cal Leandros series by Rob Thurman. Nightlife is foll owed by Moonshine.
In New York, there's a troll under the Brooklyn Bridge, a boggle in Central Park, and a beautiful vampire in a penthouse on the Upper East Side. Of course, most humans are oblivious to this, but Cal Leandros is only half-human. His father's dark lineage is the stuff of nightmares-and he and his entire otherworldly race are after Cal. He and his half-brother Niko have managed to stay a step ahead for three years, but now Cal's dad has found them again. And Cal is about to learn why they want him, why they've always wanted him...for he is he key to unleashing their hell on earth. The fate of the human world will be decided in the fight of Cal's life….
Characters
Edit
Plot Points
Edit
Noteable for introducing:
Alternative covers:
External Links
Edit
http://en.wikipedia.org/wiki/Nightlife_(novel)
Ad blocker interference detected!
Wikia is a free-to-use site that makes money from advertising. We have a modified experience for viewers using ad blockers

Wikia is not accessible if you've made further modifications. Remove the custom ad blocker rule(s) and the page will load as expected.