Moonshine is the second book in the Cal Leandros series by
Rob Thurman
. Moonshine is preceded by
Nightlife
and followed by
Madhouse
.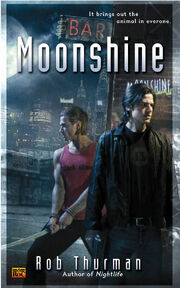 After saving the world from his fiendish father's side of the family, Cal Leandros and his stalwart half-brother Niko have settled down with new digs and a new gig-bodyguard and detective work. And in New York City, where preternatural beings stalk the streets just like normal folk, business is good. Their latest case has them going undercover for the Kin-the werewolf Mafia. A low-level Kin boss thinks a rival is setting him up for a fall, and wants proof. The place to start is the back room of Moonshine-a gambling club for non-humans. Cal thinks it's a simple in-and-out job. But Cal is very, very wrong. Cal and Niko are being set up themselves-and the people behind it have a bite much worse than their bark...
Characters
Edit
Plot Points
Edit
External Links
Edit
http://en.wikipedia.org/wiki/Moonshine_(novel)
Ad blocker interference detected!
Wikia is a free-to-use site that makes money from advertising. We have a modified experience for viewers using ad blockers

Wikia is not accessible if you've made further modifications. Remove the custom ad blocker rule(s) and the page will load as expected.