Madhouse
is the third book in the Cal Leandros Series by
Rob Thurman
. Madhouse is preceded by
Moonshine
and followed by
Deathwish
.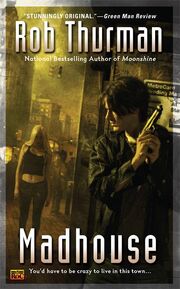 Half-human Cal Leandros and his brother, Niko, aren't exactly prospering with their preternatural detective agency. Who could have guessed that business could dry up in New York City, where vampires, trolls, and other creepy crawlies are all over the place? But now there's a new arrival in the Big Apple. A malevolent evil with ancient powers is picking off humans like sheep, dead-set on making history with an orgy of blood and murder. And for Cal and Niko, this is one paycheck they're going to have to earn...if they live long enough to collect it.
Characters
Edit
Plot Points
Edit
Alternate Covers
External Links
Edit
http://en.wikipedia.org/wiki/Madhouse_(novel)
Ad blocker interference detected!
Wikia is a free-to-use site that makes money from advertising. We have a modified experience for viewers using ad blockers

Wikia is not accessible if you've made further modifications. Remove the custom ad blocker rule(s) and the page will load as expected.