Chimera
is the first book in the Chimera series, aka the
Korsak Brothers series
by
Rob Thurman
.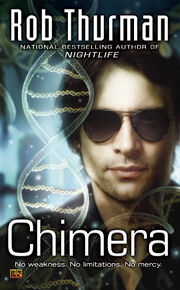 New from the national bestselling author of Roadkill A sci-fi thriller that asks the questions... What makes us human... What makes us unique... And what makes us kill? Ten years ago, Stefan Korsak's younger brother was kidnapped. Not a day has passed that Stefan hasn't thought about him. As a rising figure in the Russian mafia, he has finally found him. But when he rescues Lukas, he must confront a terrible truth-his brother is no longer his brother. He is a trained, genetically-altered killer. Now, those who created him will do anything to reclaim him. And the closer Stefan grows to his brother, the more he realizes that saving Lukas may be easier than surviving him...
Plot Points
Edit
Characters
Edit
Cover art by Aleta Rafton
Next book: Basilisk
External Links
Edit
Ad blocker interference detected!
Wikia is a free-to-use site that makes money from advertising. We have a modified experience for viewers using ad blockers

Wikia is not accessible if you've made further modifications. Remove the custom ad blocker rule(s) and the page will load as expected.